Creative Approach
When you partner with Creative Approach you'll enjoy peace of mind knowing that you'll get the correct item, the correct imprint, and on-time delivery. We want you to be happy with your experience and genuinely thrilled with the end result. We'll do what it takes to make it happen.

Real People and Relationships
With ePromos you get personal attention from a trained Promotions Specialist that cares about the success of your project. Our experts go through a rigorous training program designed to benefit you! Your rep will share the lessons we've learned from tens of thousands of successful orders to make sure yours is a success as well. We love to talk promos and pride ourselves on making it happen, so call us with any questions or concerns you have at any time you'd like.
Your Logo on Anything
We can put your logo on any promotional product! If you look around your desk right now you will probably find many branded promotional products without even thinking about it. They come in all shapes and sizes from coffee mugs, pens, bags, lanyards to clip your ID badge with, or that mouse pad you're using. Promotional products are an affordable and cost effective marketing tool every business should use to capture their audience. Logo-imprinted promotional products have reached a high level of popularity because they are flexible, tangible and long lasting. Here are some benefits of using promotional products to promote your business:
They provide repeated and extended brand exposure
They provide effective recall
They leave a lasting impression
They're inexpensive
Why Creative Approach?
Two locations in Savannah and Atlanta, GA with a knowledgeable staff. We are here to help you find or create the perfect items to match your marketing and promotional needs.
As your partner in branded advertising products, we are committed to providing exceptional customer service and great value. Call us now and speak to our knowledgable specialists and let us help you promote your business.
Featured Product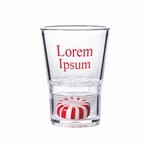 2 Oz. Flav-A-Shot™ Infusion Acrylic Sh...
Infusion acrylic shot glass two piece 2 Oz. acrylic shot glass. Place an edible condiment (such as candy, fruit, gum, licorice, chocolate, etc.) into the removable bottle compartment of the unit. Reas...
$2.70 - $3.42
Innovative Favorites